Due to flooding Bouchons will be closed from Tuesday November 21 till Tuesday 12 december. Re-opening  Wednesday 13 december at 5 P.M.
Christmas Eve Dinner - Sunday December 24 th, 2023 - Canapes & Sparkling + 3 courses -
$95 per person (not inclusive of tax & gratuities)
New Year's Eve Dinner - Sunday December 31 st, 2023 - Delicious Dinner with Beautiful Selections !!! Enjoy a Free Glass of Bubbles to tast the New Year
$95 per person - 3 courses (not inclusive of tax & gratuities)
$115 per person - 4 courses (not inclusive of tax & gratuities)
Regards
Béatrice & Stéphane 
Memorable Food
Made With Tradition
---
Bouchons, an elegant French Bistro, has been open for business since 2004 and is in the heart of Kelowna's cultural district. Located at a walking distance from the Delta Grand Hotel, the Kelowna Community Theatre, Prospera Place and the most popular art galleries. Our mission is to offer traditional authentic French cuisine in a casual elegant ambiance using products from the local farms and producers.

Fine Wines
---
Bouchons Bistro is proud to offer most wines and sparkling wines from the Okanagan Valley and France to complement our cuisine. We also hold a selection of International wines.
Our Burgundy style temperature-controlled cellar sits in the heart of the restaurant holding 750 bottles including over 140 different labels. A part of our collection is presented behind the bar along a selection of dessert wines, fortified wines, liquors and scotchs.
---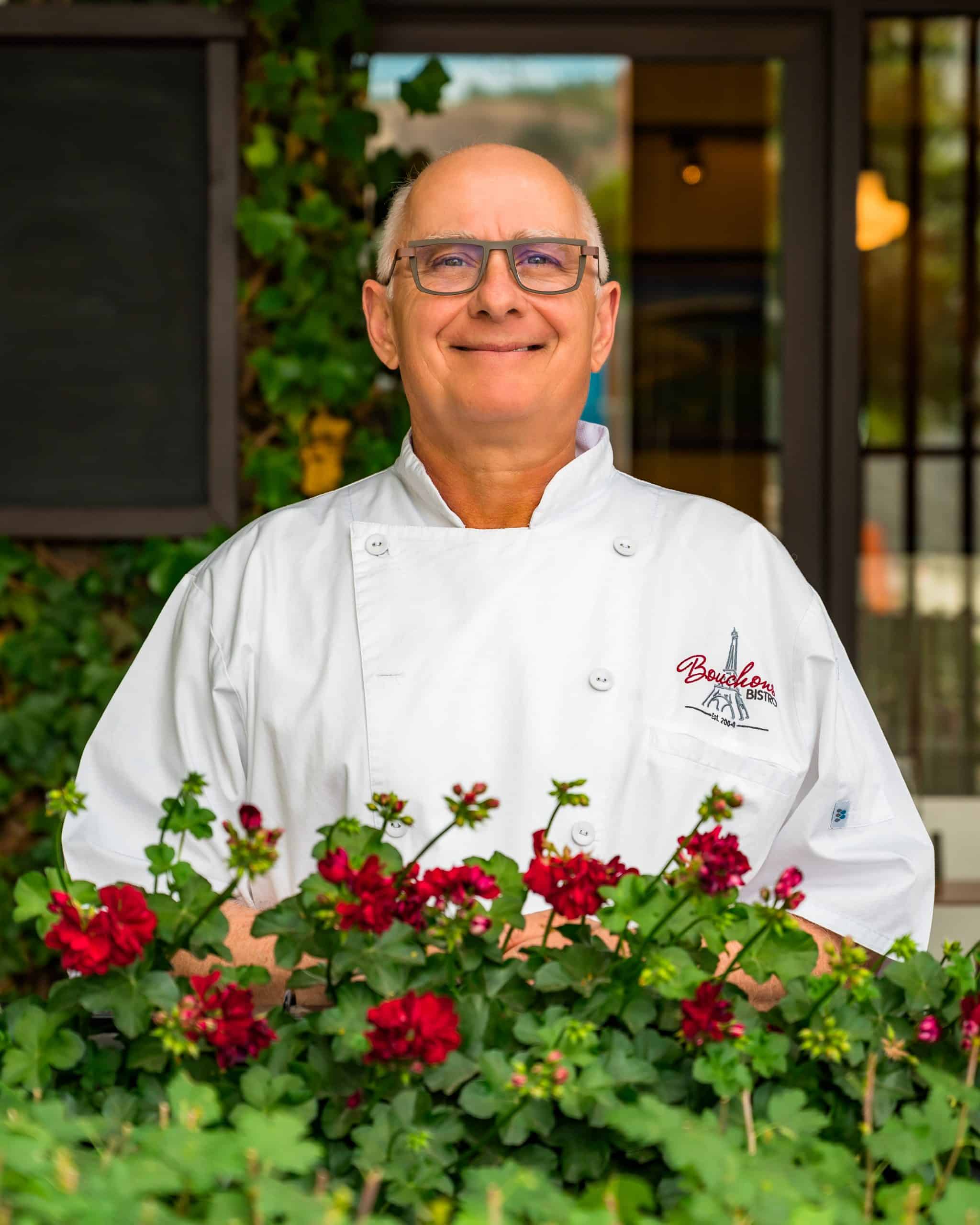 Meet Our Chef
When Stephane Facon first laid eyes on Kelowna in 2014, it was love at first sight for the Parisian Chef.
Stephane's Canadian adventure is going well and he is grateful to be operating an authentic French fine dining restaurant in Kelowna, a city he adores.
What Our Guests Are Saying:
---
My girlfriend and I were very pleased to spend our Valentines day dinner together at Buchons. The service was excellent on a very busy evening and they were very accommodating to my special requests to make the evening one to remember. The food was sensational and the flavors were unforgettable. It was a set menu in order to serve as many couples as possible on this special day and we had no issue with that. To say the least, we will definitely be returning for another fun filled romantic evening with the staff ar Buchons!
Amazing food!! Service was impeccable! Thanks for the amazing dining experience!
Had a great evening with friends. Meal and service were impeccable! Wine was spectacular! Definitely a be back!
chad bannister
2023-02-13
The food was absolutely delicious and our server (Melody?) was excellent. We always enjoy the food here and this time was no exception. Highly recommend for great wine, menu, service and ambience.
Great atmosphere, delicious food, professional and friendly service.
Nick Bernhardt
2023-02-12
I believe it is one of the best fine dining venues in Kelowna. Authentic French bistro athmosphere in the middle of downtown, Beatrice warm greetings and Clemance knowledgable service- what else can you ask to start the evening. Food menu with exellent choices and long wine list would not dissappoint any client. Bouchons became our favorite place in Kelowna. Thank you chef Stephane and whole team!
Katie Crawford
2023-01-25
Reserve Your Table
or Order Pickup Online