Open 5 Nights A Week
Tuesday to Saturday: 5:00pm - 10:00pm
Memorable Food
Made With Tradition
---
Bouchons, an elegant French Bistro, has been open for business since 2004 and is in the heart of Kelowna's cultural district. Located at a walking distance from the Delta Grand Hotel, the Kelowna Community Theatre, Prospera Place and the most popular art galleries. Our mission is to offer traditional authentic French cuisine in a casual elegant ambiance using products from the local farms and producers.

Fine Wines
---
Bouchons Bistro is proud to offer most wines and sparkling wines from the Okanagan Valley and France to complement our cuisine. We also hold a selection of International wines.
Our Burgundy style temperature-controlled cellar sits in the heart of the restaurant holding 750 bottles including over 140 different labels. A part of our collection is presented behind the bar along a selection of dessert wines, fortified wines, liquors and scotchs.
---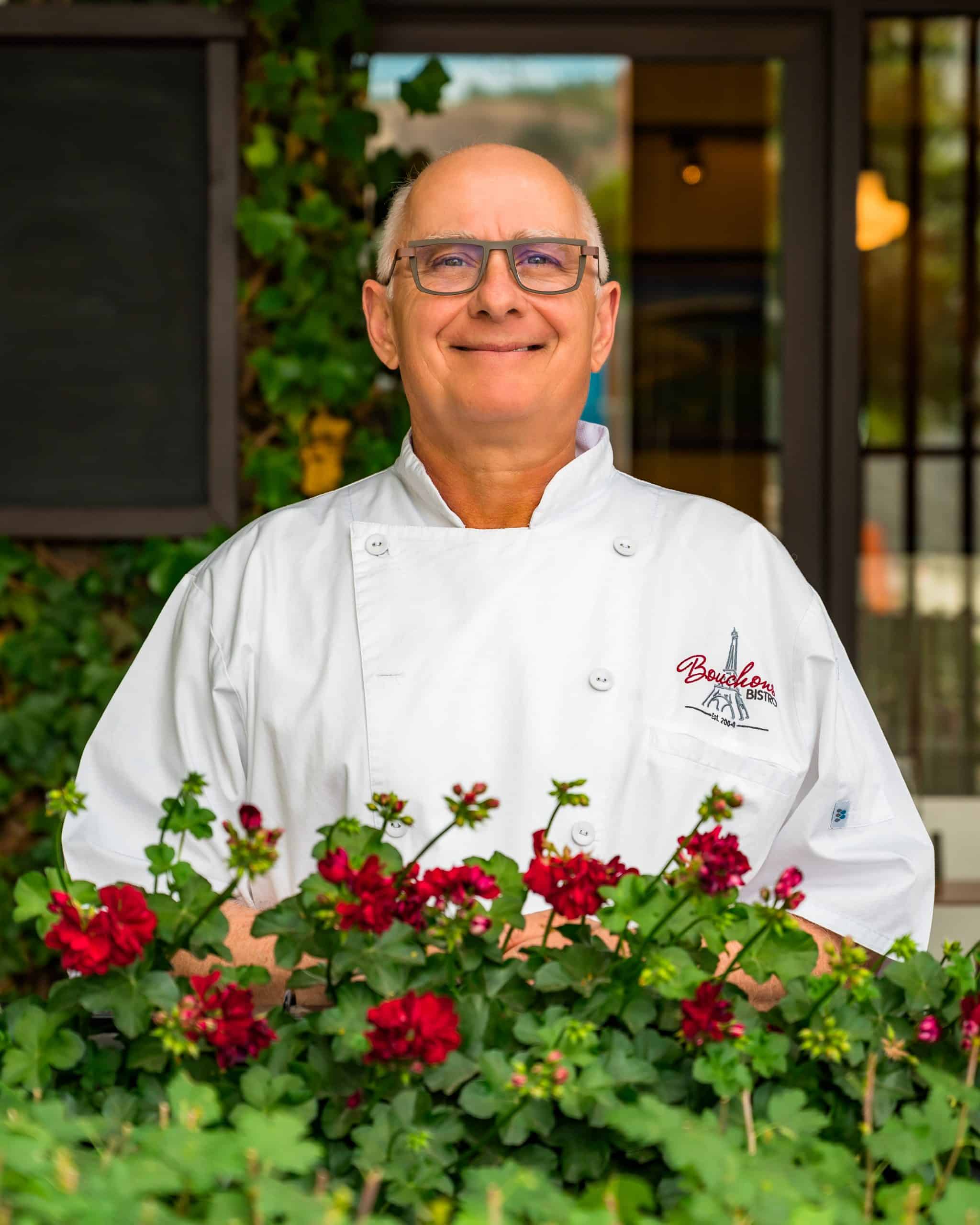 Meet Our Chef
When Stephane Facon first laid eyes on Kelowna in 2014, it was love at first sight for the Parisian Chef.
Stephane's Canadian adventure is going well and he is grateful to be operating an authentic French fine dining restaurant in Kelowna, a city he adores.
What Our Guests Are Saying:
---
Myself and my partner ate here over the weekend. The food is authentic and so is the staff. Very nice customer care and service. The food is good.
Great service friendly and nice atmosphere.
Excellent experience. Great service and food. I'd definitely go back
Surely one of the best dining experiences I've had in a while. I came in late (9pm during covid times). Everyone was so accommodating. The seared fois gras was perfect with the sweetness of the apple. The fish was perfectly cooked flakey yet moist. Thank you to Stephan, Joffrey and Beatrice for an incredible evening. I will definitely return with guests 😁
Must visit while in Kelowna - this family takes their business very seriously!
Jamie Robinson
2021-05-13
The wine list is excellent, we selected a Sancerre Sauvignon Blanc. Wonderful. The charcuterie board, escargot appies were plentiful for sharing amongst our family of four. We chose their signature La Cassoulet (one of which they prepared gluten free) and a Bouef Bourguignon as our mains. Each was well prepared, plentiful and very tasty.
Alisiya Ganacheva
2021-03-27
Reserve Your Table
or Order Pickup Online