Every restaurant has
its own unique story, we want
to share ours with you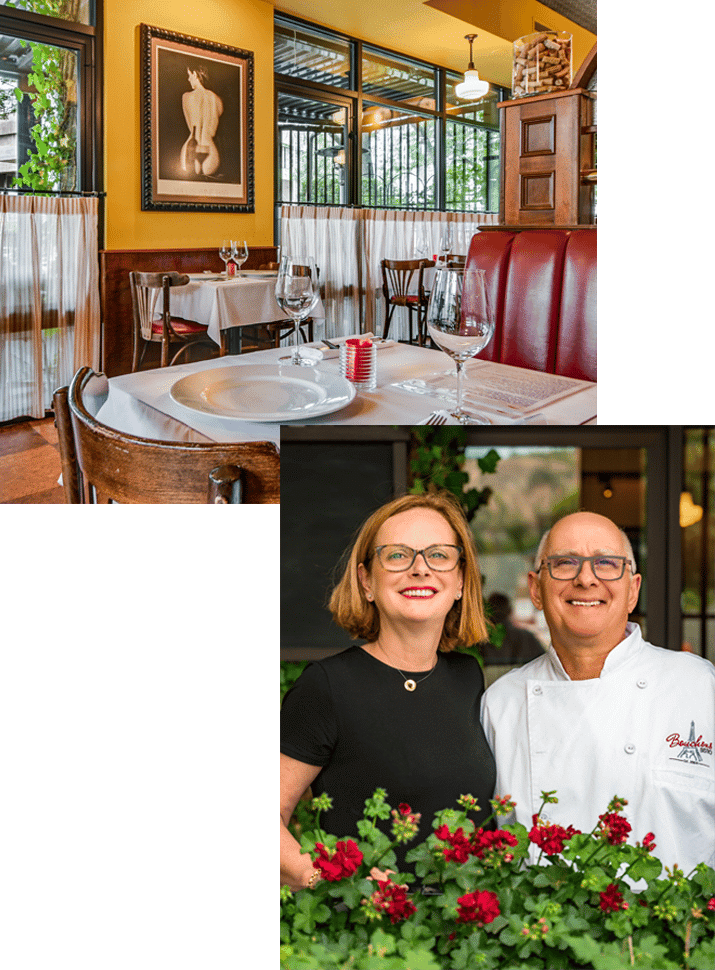 "Bouchons perfectly represents
the French culinary tradition"
~ Chef Stephane Facon
---
When we moved our family from Paris to Canada in 2001, we didn't realize we had made the first step on the journey to our destiny. Although we loved our time in New Brunswick, the subzero East Coast winters left us longing for a warmer climate. When a friend recommended that Vancouver might be an ideal location, I flew west to investigate. Within a matter of hours, I called my wife, Beatrice, to tell her we were moving!
The timing couldn't have been more perfect for us.
The then-owner of Bouchons Bistro, one of the treasured downtown Kelowna restaurants, was selling the 52-seat space, and we were more than willing to buy. This incredible opportunity allowed me and Beatrice to begin creating a lasting impact on the city. Bouchons has always been known for its superb, traditional cuisine, where patrons came to celebrate special occasions. This stellar reputation allowed us to further enhance the menu with fantastic dishes that reflected the foods we loved dining on in Paris. While we serve many new additions that are traditional French dishes, a portion of the new items on the menu included creations that cater to both vegan and vegetarian patrons.
But our treasured diners don't just love us because of the food. Our servers are expertly attired in shirts, ties, and aprons, with silverware being changed between courses for an upscale dining experience to reflect the Parisian style. We've strived to create this unique atmosphere without being intimidating. And we're seeing increasing numbers of young people visiting us for dinner.
At Bouchons Bistro, we know our success isn't a surprise.
Our success is truly a team effort. I am the head chef and manage all aspects of the kitchen, with Beatrice handling the administration and finances of the restaurant. We work very well together, and I'm lucky to have Beatrice as my wife and partner. While we are grateful for each other, we also appreciate the many patrons who enjoy Bouchons' authentic French cuisine. We adore this city and its people and look forward to seeing you at Bouchons Bistro soon!
Reserve Your Table
or Order Pickup Online